As the 2010-11 NBA season approaches, The Fantasy Dudes have gotten together around Gatorade cocktails and dissected the fantasy rankings to help you in your upcoming draft. Over the coming days we will drop the rankings on you, position by position. Today we start off with what is traditionally the toughest position to fill successfully, the center position - the top 24.
Our rankings are based on a combination of player performances last season, current injury status, team changes and predicted play in the coming season. We have used our numerous years of experience in fantasy sports and closely analyzing hoops to provide you with our recommended draft order. Remember, these players are ranked by their predominant position played. There will be other players that can fill this position, depending on what flexibility your particular league provides.
no comments
 

Whilst there are players out there that are fantastic in the real life game, it doesn't necessarily translate into the fantasy game.

 

So, it's your pick in the draft and Dwight Howard is the next best ranked player on the board… do I or don't I? Whilst on the one hand he is a monster on the boards, shoots a great FG %, and an amazing shot blocker, however on the other he is a terrible, terrible free throw shooter… did I mention he can't shoot free throws? Draft him, and you can pretty much kiss your FT category goodbye at 59% shooting. Dwight will probably be the highest ranked centre, but to me, it's not worth the risk, especially for those playing in a head-to-head league. Of course, if you do select him, then you need to pair him with some pretty good ft's shooters to offset his 10+ attempts a game. Other players to select ahead of him include the likes of Nash, Curry and Deron. Substitutes at centre are guys like Pau Gasol, Brook Lopez and David Lee.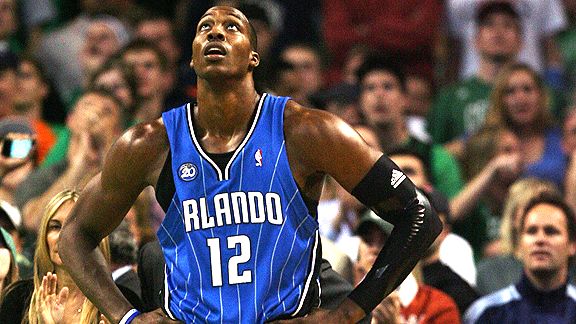 Here are a few more category killers to consider (or re-consider) when drafting your teams:
Josh Smith – FT %
Brandon Jennings – FG %
Baron Davis – FG % and TO's
Rajon Rondo – FT's (relative to others in his position)
Emeka Okafor – FT %
Monta Ellis – TO's
Gilbert Arenas – FG % and TO's
Ben Wallace – FT %
Injury prone players – to be covered in another article, but includes likes of Greg Oden, Yao Ming and Kenyon Martin.
Don't get me wrong, there are some great players listed above, and I'm sure there would be varied opinions on this article, including some of the listed players actually being category 'Kings' (Dwight: Rbs, Blks, FG %; Rondo: Stls, Assts; Smith Blks), but in order to give your team the best chance of winning, you need players who are consistent across the board. 
Got a burning question on fantasy basketball? Contact us at This e-mail address is being protected from spambots. You need JavaScript enabled to view it .
no comments